I found this product and it was the answer to my dreams and pocket book, I was going to have to hire a drywall contractor to come in and texture my bathroom. My walls were old and paint was chipping off them and I wasn't looking forward to the price that drywall and texture would have cost me, Then I found this wonderful product, it cost me 29.99 to redo my entire bathroom with paper Illusions, I can't wait to start my other bathroom now, and Laundry room you name it I will find it to paper, I have told all my friends and showed them, and the store cant keep it in stock. its flying off the shelves, all my friends are doing the same, This is the greatest and its fun too. Thanks so much for making this great product.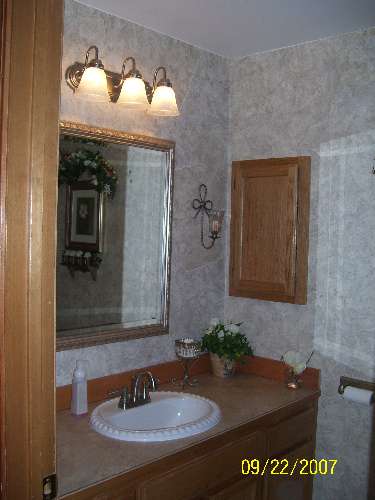 Florentine Marble Stone
~ Kimberly Scarpete
Maple Falls, Washington
I love your paper illusion paper. I used it in my half bath. Our house was built in 1940 so most of the walls are plaster. Plaster walls never look good painted. Paper Illusion made them look so smooth. My 5 kids were so hard on the faux paint I had on them previously. It was so hard to repair the damage they caused. But with your paper, I just repair 1 piece instead of a whole wall. They also kept pulling my towel ring off the wall. They tore it off the wall one day just before we were expecting company leaving a hole about the size of a silver dollar. I tore a piece of Paper Illusion to cover the hole, planning to repair the hole later. The Paper Illusion dries so taunt I couldn't find the hole! I love your product..What a lifesaver to a home with 5 kids, 4 of them boys!!!!! (click images to enlarge)
~ Christina
Attached is a photo of my bathroom I did in the Multi-color paper - I've gotten so many compliments on it!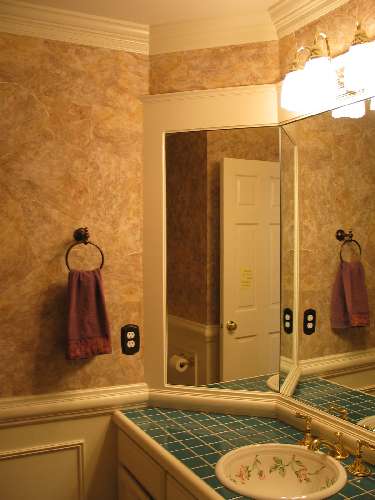 Hearthstone Multi
~ Wendy Woodside
www.tesseradesign.com
I recently did an accent wall in my home office with Hearthstone Fresco Green. I was amazed at the results and absolutely love the color and depth it gives to the room. My friends and neighbors who have seen it have fallen in love with it and immediately asked me how I did it and where they could get some, so the results definitely speak for themselves.
I also loved the ease of application, especially being able to use the straight pieces for the edges. No measuring or cutting involved - now that's my kind of wallpaper! (click image to enlarge)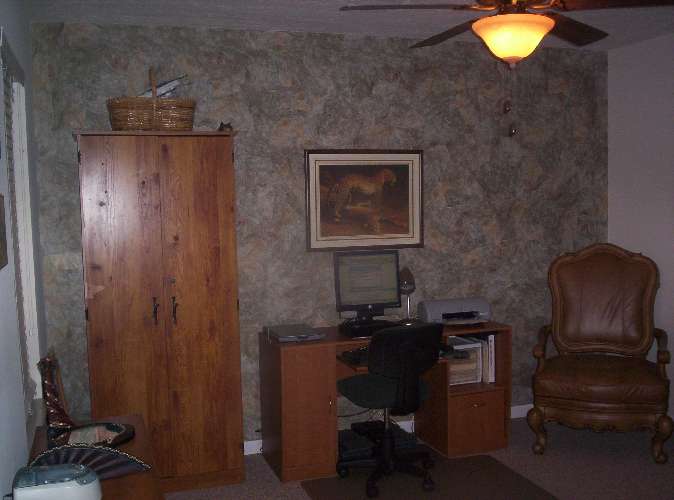 Hearthstone Fresco Green
Thank you so much for the informative articles you have put together, and I have been recommending Paper Illusions to all of my friends. I have even offered to come over and help them with it! Thank you,
~ Ilene Watson
Knoxville, TN
This is my new dining room...I love it and get many compliments.
(click images to enlarge)
Top: Hearthstone Multi
Bottom: Script Tuscan Red
~ Sylvia Alligood
In my home I did the dining room in the brown, I also used the same paper in a niche at the top of the stairs. (click image to enlarge)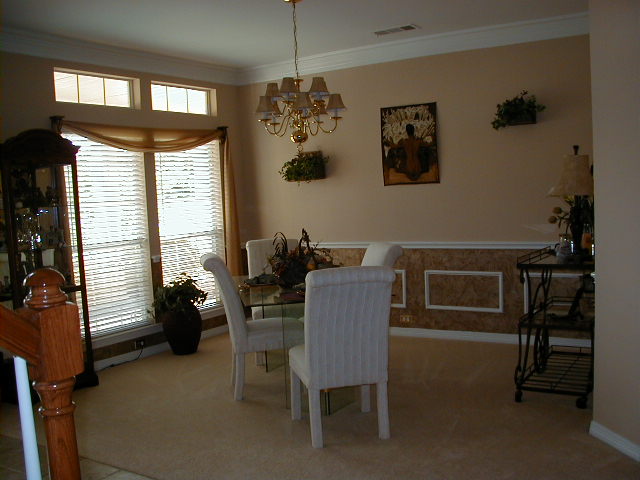 Script Harvest Gold
~ Kathie Michel
(Click images below to enlarge)
Here are the pictures I promised you of my kitchen. (click images to enlarge)
~ Barbara (BeBe)
We used the paper we bought from you to redo our kitchen walls (put up over primed wallpaper that wouldn't come off). We put a few coats of satin polycrylic over the top to protect it from spills. I took some photographs (pictured below) during the process for the heck of it... We're very happy with the results, and glad to be rid of the plaid! (click images to enlarge)
~ Kaye Anfield
I love my kitchen...thanks to paper illusions. I always knew I wanted to use some rich red in my new house, but I was afraid that is would be "too much". The perfect solution...combining my paint with paper illusions. I love the look and get tons of compliments too! (click images to enlarge)
~ Mishael Miller
I loooove this paper, just had a first experience with using it. Am getting tons of compliments on my problem wall solution. Thanks much for your advice re: counter tops. I'm contemplating using it in the kitchen as my next updating project. (click image to enlarge)
~ Sherrie Grindy
I recently followed the instructions for redoing my kitchen countertops with Paper Illusions. I used Travertine Carmel. I like how it turned out. Here are some pics for your site if you want them. (click image to enlarge)
Travertine Carmel
~ Jackie Morris
I love your site and tried paper illusions on my kitchen countertops. I used the kids' camoflage color. I did it while my husband was away & when he came back he absolutely LOVED it and now wants me to do it in two of our bathrooms! Here are the before, during & after pictures. Thanks again for a great website. (click image to enlarge)
BEFORE...

DURING...

AFTER...

Hearthstone Camoflage
~ Nicole Wallace
I just resurfaced my kitchen counter yesterday with PaperIllusion wallpaper...I am SO happy with how it turned out. Total cost was only $50 and it completely changed the look of my kitchen. I was very skeptical when I read about using wallpaper, but I (and my husband) love how it turned out. I highly suggest giving it a try. I am not a "crafty" person at all and this was a breeze. Here are some pictures of my finished countertops... (click images to enlarge)
Travertine French Vanilla
...I was very hesitant to do this for fear of hating it and having to buy new countertops in the end. We love it though and have had rave reviews from everyone who has come over. People just can't believe it's wallpaper. At $50 total cost and about 5 hours of time I recommend it for anyone who hates their current counters.
~ Mandie
Want to know how she did this?

Grab this Project Sheet on How to Resurface Butcher Block Countertops with PaperIllusion.
See how you can have results like this as well!
When I first found your Wall Paper Illusions I thought what a great idea, so I ordered two different mini-rolls to see which one would look best in our small guest bathroom.
I'll be honest with you, I was skeptical about starting the project. Even as boring the current cultured marble counter top looked, I wasn't ready to ruin it.
Looking at the roll of paper doesn't give you any idea of how the actual torn and pasted final results will be. I ended up using the Florentine Illusion in Marble Stone. I did lightly sand, clean and prime the counter, then let the paper dry over night. I wanted it water tight so I put on four coats of water-based matte finish polyurethane. I am so very pleased with the look that I wanted to share before and after photos with you. I can't believe it's...wallpaper! (click images to enlarge)



BEFORE




AFTER (view 1)




AFTER (view 2)

Florentine Marble Stone
...I'm so pleased with the outcome, I'd be tickled for others to see what a few hours and your great product will do.
~ Barbara Fant
I have enclosed some pictures of my newly papered counters. I absolutely love how they turned out. You can't see my floors in the pictures, but they match the counters perfectly. (click images to enlarge)
~ Laura
I discovered Paper Illusions about 3 years ago. I did both bathrooms in my condo with beautiful results. Having moved into a new house last year, I once again turned to Paper Illusions for my decorating needs. Two more bathrooms and the master bedroom are all beautifully done in different papers. In addition, I got a little creative and went beyond the walls within the same room. Covered light switch plates, tissue boxes, toilet tank cover, mirror frame and other accessories. I've enclosed some pictures for you to see and include on your site if desired... (click images to enlarge)
~ Ginette Schwenn
...pictures of some sample pieces that have been done for the QVC or early trade show sets when the product was introduced. (click image to enlarge)
~ Jane Gauss
PaperIllusion Designer
I used PaperIllusion to do my bathroom floors as I couldn't afford to ceramic tile them. Everyone who sees them is simply amazed. I did the bathroom walls tuscan red and used Multi on the floor as my fixtures are beige and the Multi has some burgundy flecks in it. It turned out beautiful... It looks like I installed a stone or marble floor. I used Satin finish Poly. What a difference. (click images to enlarge)
~ Barbara (BeBe)
Want to know how she did this?

Grab this Project Sheet on How to Resurface Commercial Tile Flooring with PaperIllusion.
See how you can have results like this as well!
My mother gave me an old coffee table that looks old. I got on the net to find out how to "faux marbleize" it and found your wonderful website...
...Now that I've seen how well it looks I was thinking of doing a large painting frame that will be above the sofa that the coffee table sits in front (of). ...Having the frame and the table match seems wonderful in my mind's eye. All my room colors are cream, ivory and gold tones. The present painting frame is gray. Goes with NOTHING. This would be the perfect way to draw it all in... (click image to enlarge)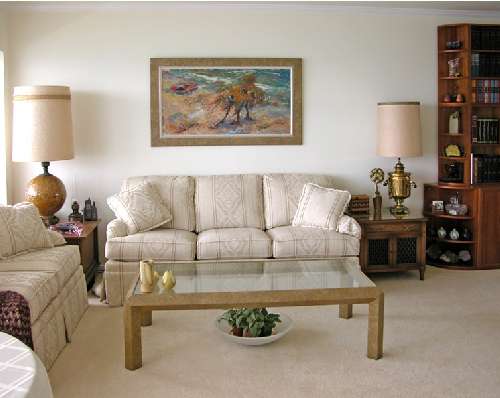 Crepe Bronze
Almost a year later, when I followed up with her to see how the table held up and if she completed the picture frame, she wrote...
Did I ever complete the project and have gotten so many compliments on the two pieces you won't believe. When I recovered the coffee table the apartment was empty as we were gutting it for a redo. Since I couldn't hurt anything anyway spray painting, I covered the finished coffee table with about four layers of clear acrylic lacquer. We put our feet up on it while reading on the sofa and it's held up perfectly for almost a year now. The matching painting frame is perfect.
~ Wendy Lueder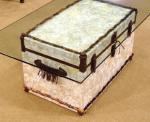 Home | Learn More about Paper Illusions Wallpaper
Copyright 2006-2020 PaperItFun.com All Rights Reserved.
Designated trademarks and brands are the property of their respective owners.